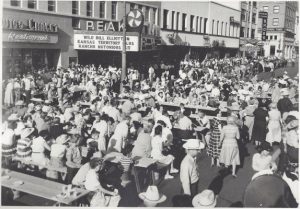 If you love western memorabilia like we do and you have photos, magazines, posters, newspaper articles from the Colorado Springs Western Street Breakfast or other western events/groups, please read on!  We want to make sure our local western history is preserved. We will gladly collect any donations of western memorabilia from you so these artifacts can be preserved and shared so generations to come can enjoy our history. For more information on donating your memorabilia and having it collected, please send us a message through our contact form.
The first street breakfast dates back to 1936 when about 35 people got together and were served from an old chuck wagon in front of Joe Reich's Swiss Chalet. The breakfasts in the 1930s and early 1940s were for the Cowhands and Cowbelles who were the rodeo boosters now called the Ramrods.
When the Pikes Peak Range Riders made their first ride in 1949 they were looking for a place to start their ride from for the next year and the street breakfast seemed like a likely venue. During those days $1.00 got you a breakfast of eggs and pancakes. And today you get the same breakfast for $5.00, which is a pretty good deal!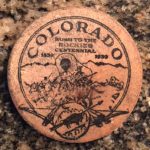 Tradition is that the cost of the breakfast also includes a souvenir wooden token commemorating the event. Until 1976 guests at the street breakfast could order their eggs as they liked them but as the crowds grew at the breakfast, the decision was made to serve scrambled eggs only.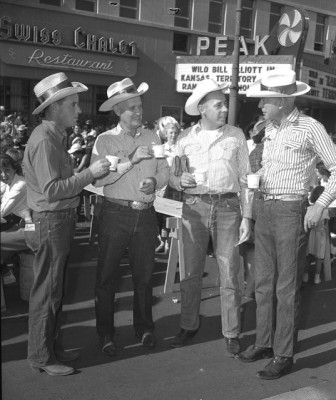 Starting in 1960 Sertoma took over the street breakfast and continued that tradition for 55 years. The Pikes Peak Range Riders took the helm starting in 2016. So, what does it take to serve 10,000 people breakfast? 1,100 pounds of pancake batter, 1,500 pounds of eggs, 80 gallons of syrup, 500 gallons of coffee, 7,500 pints of milk, 2,500 pints of juice and 1,100 bales of straw for "seating."
Sertoma's thousands of hours of time and hundreds of volunteers have made the street breakfast a success for 55 years. Cooking and serving at the street breakfast for over 40 years have been the Fort Carson volunteers. This long standing tradition and Fort Carson's presence at the breakfast is something that everyone looks forward to seeing. Also present at the breakfast is the Fort Carson Mounted Color Guard, who presents the flags in front of the stage while the crowd removes their cowboy hats and sings the National Anthem.