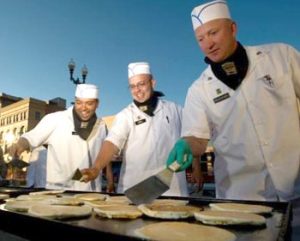 What is the Western Street Breakfast?
The Colorado Springs Western Street Breakfast is one of Colorado Springs' most iconic celebrations of its deep-rooted western heritage. You'll enjoy a delicious hot breakfast served by Ft. Carson volunteers. Sit on a hay bale and enjoy entertainment from bands and dancing groups. This event is an annual fundraiser that supports our local military and their families.
When and Where is the Event?
June 19, 2019 (Wednesday)
5:30 – 9:00 a.m.
Downtown Colorado Springs
Intersection of Pikes Peak Avenue & Tejon Street
What Happens at the Event? 
How Much Does it Cost?
Only $5.00 for pancakes, eggs, coffee, juice and milk
Children 5 and under eat FREE!
No admission fee to the event
Your ticket to get a great breakfast is a Commemorative Wooden Coin (Token), and it is yours to keep. Tokens can be purchased at the event (cash only).
How do I Get There and Where do I Park?
Event Map – including location of handicap parking on Cascade Avenue in front of Phantom Canyon.
Please remember that street meters need to be fed starting at 8:00 a.m.
So, what does it take to serve 10,000 people breakfast? 1,100 pounds of pancake batter, 1,500 pounds of eggs, 80 gallons of syrup, 500 gallons of coffee, 7,500 pints of milk, 2,500 pints of juice and 1,100 bales of straw for seating.