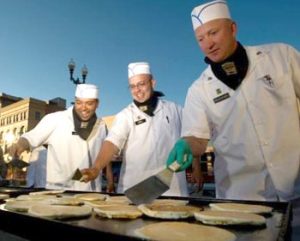 What is the Western Street Breakfast?
The Colorado Springs Western Street Breakfast is one of Colorado Springs' most iconic celebrations of its deep-rooted Western heritage. You'll enjoy a delicious hot breakfast served by Army/Air Force volunteers. Sit on a straw bale and enjoy entertainment from bands and dancing groups. This event is an annual fundraiser that supports our local military and their families.
When and Where is the Next Event?
We are making plans to hold the Street Breakfast on June 19, 2024 in Downtown Colorado Springs on Tejon Street! Thank you for your continued support of this historic event.
What Happens at the Event? 
Breakfast will be served from 5:30 a.m. to 9 a.m.
Breakfast served by Army/Air Force volunteers
Pikes Peak Range Riders and Rangerettes ride out of town on horseback at 8 a.m.
Appearances by Girl of the West and Aide to the Girl of the West
Kids Corral with fun activities
76th Annual Lil' Cowboys and Cowgirls Round-Up Costume Contest
Petting Zoo by Wishing Star Farm
Trick Roper, Gunslinger and Sweetwater, Native American Dancers
Music performances by the Flying W Wranglers and Exit West
Dance performances by Sweetwater Native American Dancers
Buy tickets at the event (cash only) or on Eventbrite (a fee will be applied to each ticket). The Eventbrite link will be added in March 2024.
How Much Does it Cost?
Only $5.00 for pancakes, eggs, sausage and a beverage (coffee, juice or milk)
Children 5 and under eat FREE!
No admission fee to the event
Purchase breakfast tokens at the event or buy ahead of time on Eventbrite
Your ticket to get a great breakfast is a Commemorative Wooden Coin (Token), and it is yours to keep. Tokens can be purchased at the event (cash only) as well as on Eventbrite. If you have a large group (10+) and would like to pay by check or credit card, please contact us well in advance of the event to make arrangements.
Can I Rent Booth Space?
Booths at the Western Street Breakfast are available only for sponsors and supporters of the event that have a Western theme. To see if you qualify to be a vendor, please fill out and submit this form by April 15 the year of the event.
How do I Get There and Where do I Park?
Event Map – including the location of handicapped parking on Cascade Avenue in front of Phantom Canyon. Handicapped spots can be found throughout Downtown Colorado Springs, both on the street and in City or County parking garages.
Please remember that street meters need to be fed starting at 8:00 a.m.
So, what does it take to serve 10,000 people breakfast? 1,100 pounds of pancake batter, 1,500 pounds of eggs, 80 gallons of syrup, 500 gallons of coffee, 7,500 pints of milk, 2,500 pints of juice and 1,100 bales of straw for seating.